The Benefits of Stretching Type 4 Hair
The ability to stretch type 4 hair provides naturalistas with different styling options to turn to –from soft, fluffy afro with maximum shrinkage to a super defined twist out or blown out style. These natural hairstyles are chic and refreshing! In this article, we are going to talk about the importance of stretching your hair and the ways in which you can do it. So keep reading!
What is stretching?
Stretching is a method of maximizing your hair length and making it closer to your actual length. Depending on the type of style your hair is in, stretching can be done in various ways without or without using heat. For type 4c hair, we advise doing it heat-less.
How does type 4 hair benefit from this method?
Type 4 hair gets a lot of shrinkage because of the bends and coils in the natural hair, thereby drawing it tighter to the scalp. While straightening or pulling your hair, the texture is stretched to reveal its real length. By stretching your natural hair, you not only get rid of hair shrinkage (thus eliminating knots and tangles) but also do away with a lot of dryness in your texture as your hair cuticles will have more tendency to absorb the natural hair products you apply. Other times, the coils and wavy curls underneath a curly fro are neglected because the hair's tight curl pattern makes oil and sebum from the scalp difficult to travel down to moisturize the entire hair strand.
Therefore stretching is very important for your hairs texture but many naturals fail to understand that. Although the "wash and go" is the easiest way out, it will do your hair no good in the long run. So according to experts in this hair department, it's advisable to wear stretched styles more.
Best natural hairstyles you can wear to stretch your hair
A curly fro is not the only hairstyle a naturalista can rock. While shrinkage is a sign that your hair is well moisturized, it doesn't always have to get in the way of your best natural hairstyles. Here are few dos that are not only stylish but also helps stretch your natural hair:
Braids- box braids, braided dreads, cornrows, crochet braids, feed-in braids, Fulani braids, Ghana braids, dookie braids, individual braids, jumbo braids, tree braids, twist braids, bohemian braids and micro braids.
Twists- flat twists, Senegalese twists, micro twists, chunky marley twists, kinky twists, finger twists, Havana twist, Nunian twists, three-strands twist, twist outs,
Knots- bantu knots
Buns- braided buns, chignon and twisted buns
Updos- pineapple updo, braided ponytails
Stretching methods
Stretching your hair using these heat-free techniques will give your mane the makeover it deserves without risking the health of your hair. Go ahead and have fun lengthening your coils with these friendly methods.
Braid-out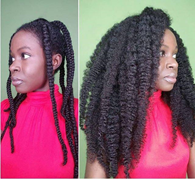 For maximum stretch, a braid out is recommended. It is also the easiest. Braid your entire hair after washing and detangling. Depending on the type of curls or waves you want, you can braid your hair into smaller and tighter or bigger and looser sections. After braiding is completed, let your hair dry and unravel to style them.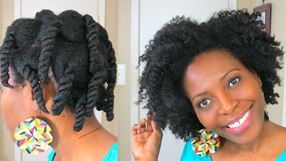 Twisting doesn't stretch as much as braids but it is still a great way of extending your natural hair and playing with various curl shapes. On thoroughly moisturized and detangled hair, divide your hair into sections, stretch the hair out and work with single or double strands (depending on the type of twists you want), twist out your entire hair. Allow them to set overnight and unravel the next day. Smaller tighter twists will result in more defined shape than looser or larger twists.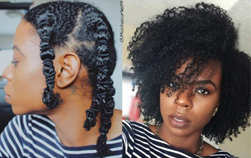 In the banding method, lots of hair ties are used to gently stretch the hair by tightly wrapping the strands in an elongated way as they dry. After washing, conditioning and detangling your hair, section them into medium-sized sections. Working from the roots to the ends, wrap the bands around each section (depending on the length of your hair) and make sure to space out each band by at least an inch. For more stretch, use more bands. Repeat until all your sections have been banded and allow it to air dry thoroughly before removing the hair ties.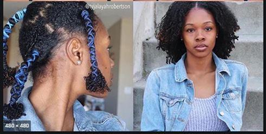 The threading method is very similar to banding but instead of hair ties, you have to use threads instead. The more you wrap your hair sections with the thread, the more it appears straightened. This popular protective style is left for an extended period to aid in hair retention and stretching while preserving the natural curl pattern.
Section of your clean and smooth hair as desired and twist the hair while wrapping it into a smaller knot. Repeat this for all the sections. Then take the twisted knots down when they are dry or after having them on for a while. Larger sections create bigger curls while smaller sections create tighter curls. Bantu knots give off a springy bounce to its look.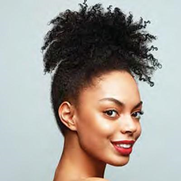 The high ponytail known as the pineapple 'do is not only a protective style but also used to elongate type 4 curls. The method is as simple as pulling your locks to the front of your head and securing it with a hair tie. For substantial results, you can leave your hair in a pineapple overnight. To maximize your stretch, gently pull your hair.
Possibly the easiest way to stretch out your curls is by combing it out by either using a wide tooth comb or your fingers. Although this method is more noticeable on dry hair, it will cause frizz.
Stretching your hair during shampooing and conditioning/deep conditioning routine.
Divide your hair into sections and as you shampoo and condition your scalp and hair section by section, stretch your strands releasing tangles from ends to roots. Then coil it into a bantu and secure straight with a claw clip. Continue this routine with each section.
Products to use to prep your hair before and after stretching?
Type 4 hair especially 4c is very fragile so constant manipulation and chemicals can make it dull, brittle and susceptible to breakage. Luckily, there are natural products specifically targeted for curly wavy hair to maximize the health of your strands. Here are the best natural hair products of 2020.
● When washing your hair, opt for a sulfate free shampoo like Indique Hair Care Essentials Moisturizing shampoo. Infused with French Argan oil, this gentle hydrating cleanser replenishes vital moisture and maximizes shine.
Prior to stretching your hair, it's important that your hair is thoroughly moisturized and properly conditioned. Try Indique Hair Care Essentials Moisturizing conditioner to transform dry, brittle and damaged hair to smooth and lustrous. It can also be used as a deep conditioning treatment. Another great detangler/ leave-in conditioner that easily removes snarls and knots from your hair is Cantu Shea Butter leave in conditioner.
After cleansing and conditioning your hair, apply a moisturizer that hydrates, defines, elongates and smoothes the hair down as it stretches like Deva Curl Super Stretch or you can massage adime sized amount of Indique Hair Care Essentials French Argan Oil (also improves hair sheen while eliminating frizz) into your damp stretched strands.
To revive second-day stretched out hair, spritz on a deep nourishing mist like this Vernon Francois PURE-FRO Moisture Spray.
The next time you stretch your natural hair, we hope these methods and products come in handy. Happy stretching!